About Us
Upholding our heritage and culture, Impression Series • Encore Melaka is excited to present a mesmerising performance with a series of touching life stories of the locals. It is not any cultural performance for tourists, it is a performance that reflects a society that embraces diversity and inclusiveness.
Impression Series • Encore Melaka will be an immerse visual and auditory experience for the audience. Expect to see astounding projection mapping, intricate theatre props and carefully chosen costumes. The inclusiveness of Melaka is expressed through the blend of traditional and contemporary dance performs by 200 local performers.
In an approximately 70-min show, audience would go through the 6 centuries of history literally crossing through time and space. What you would bring back is not merely the story of a rich historical place but an intellectual reflection of the true essence of Melaka – a good model of multicultural coexistence.
Show Time
Mon - Sat: 5:30PM & 8:30PM
Sun: 2:30PM & 5:30PM
Terms & Conditions
All published prices are subject to change without prior notice.
No smoking, food and beverages are allowed in the theatre unless otherwise stated by ENCORE MELAKA.
Our system will randomly assign the seats. It is not possible to choose your seats.
Good To Know
It is recommended to enter the theatre at least 15 minutes before. Latecomers cannot be admitted during performance until a suitable time as advised by theatre usher.
Ticket Holder needs to retain the ticket throughout the show.
Children below 4 years old or anyone who are unable to cope with rigorous environment (the rotating auditorium) or special lighting effect are not recommended for admission.
ENCORE MELAKA will not be responsible for the loss or theft of personal belongings.
If you are photographed, filmed or taped, you are consent to ENCORE MELAKA broadcasting, publishing, licensing, and using any photographs, films, recordings or images of you without compensation.
ENCORE MELAKA reserves the right to change/cancel the show, seating arrangements or audience capacity without prior notice.
ENCORE MELAKA may postpone, cancel, interrupt or stop the show due to adverse weather, dangerous situations, or any other causes beyond their reasonable control.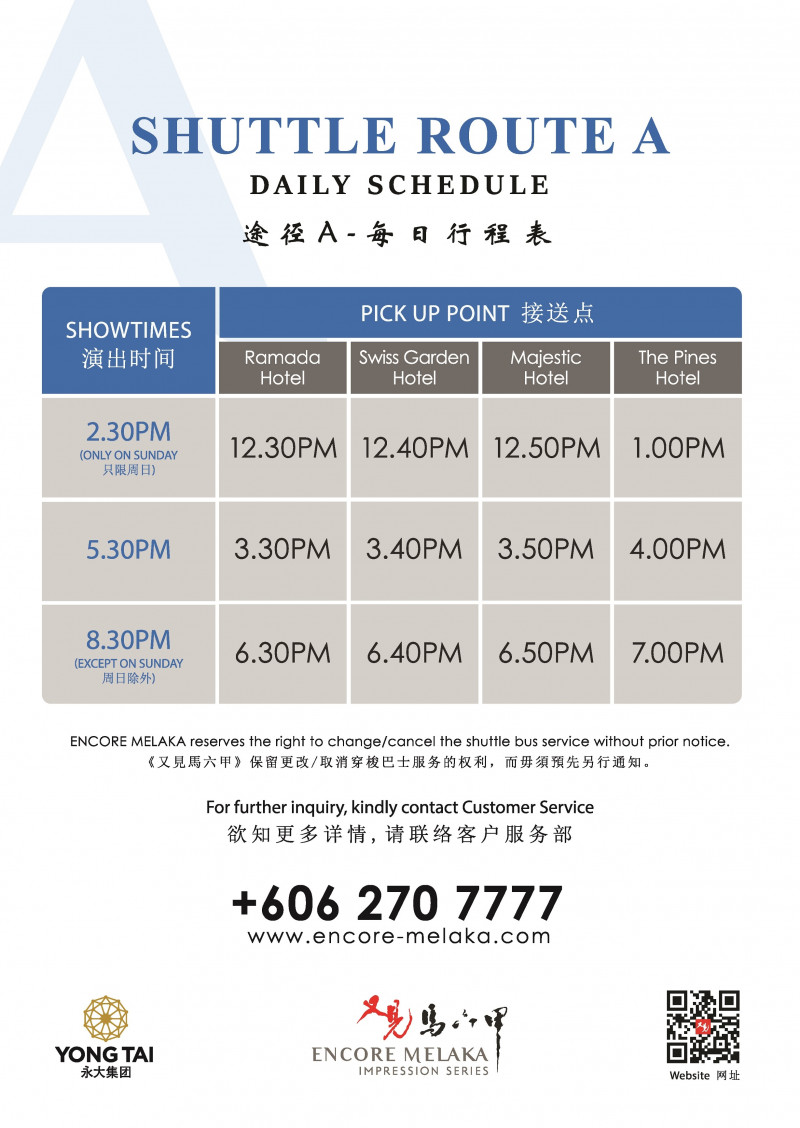 Recommended Place: Melaka River Curise
Book here