[Travelog x Resort World Tour] Genting Dream Destination Cruise by Resort World Cruise 4 Days 3 Nights Singapore Cruise Package (Ex-Port Klang) - (CLICK HERE)
[Travelog x Resort World Tour] Genting Dream Destination Cruise by Resort World Cruise 4 Days 3 Nights Singapore/Phuket Cruise Package (Ex-Port Klang) - (CLICK HERE)
2023 New Year Promotion 3D2N Cruise
Departure Date: JAN 2023 Until 17 APR 2023
Booking Period: NOW Until 28 FEB 2023


Genting Dream by Resorts World Cruises
Here you'll find everything from world-class entertainment and fine dining to spas, bars, boutiques and bespoke experiences – delivered with Resorts World Cruises' heartfelt Asian hospitality. You'll enjoy your favorite foods from around Asia, plus the best of international cuisine. All handpicked to inspire the greatest travel experience of your life.
Welcome to Asia's latest gateway to adventure and one-of-a-kind experiences you'll carry with you long after you disembark.
Explore the exciting restaurants, bars and cafes offering dishes and drinks you know and love plus many you've yet to discover. Then take your pick from our world-class theatre shows, parties, performances, classes and facilities - there's something going on somewhere, all day. And when you're ready for some rest, no one does accommodation better than Asia's hospitality veterans.
Cruise Schedule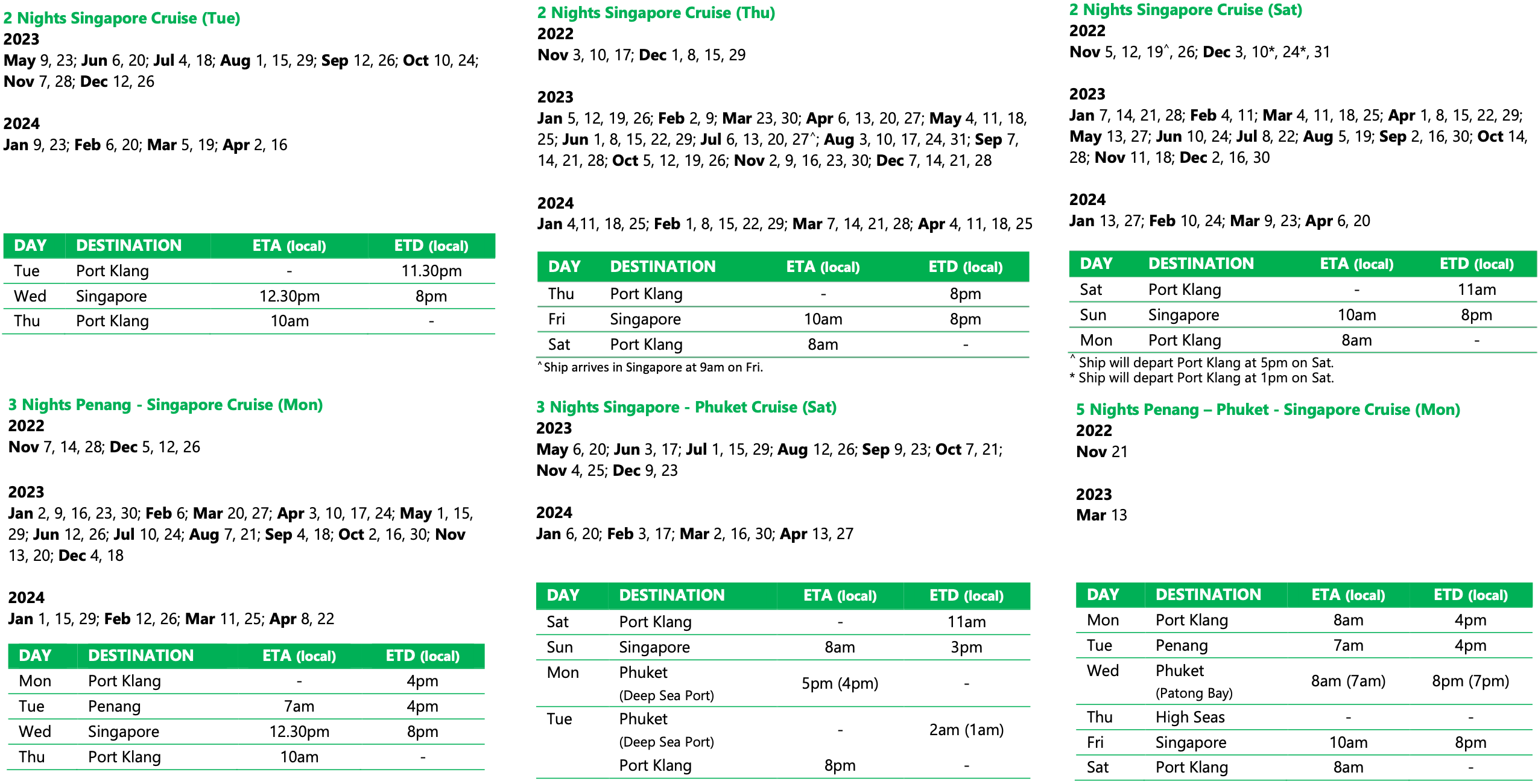 Dream Dining
The Lido (Halal)
Specialty Dining Outdoor Hotpot
Glow Bowling
Enjoy a splashing time at the pool
Rope Course and Zipline
Enjoy an intimate time at the Palace Pool - exclusively for Palace Suite guests
Room Type
Palace Deluxe Suite
Palace Suite
Balcony Stateroom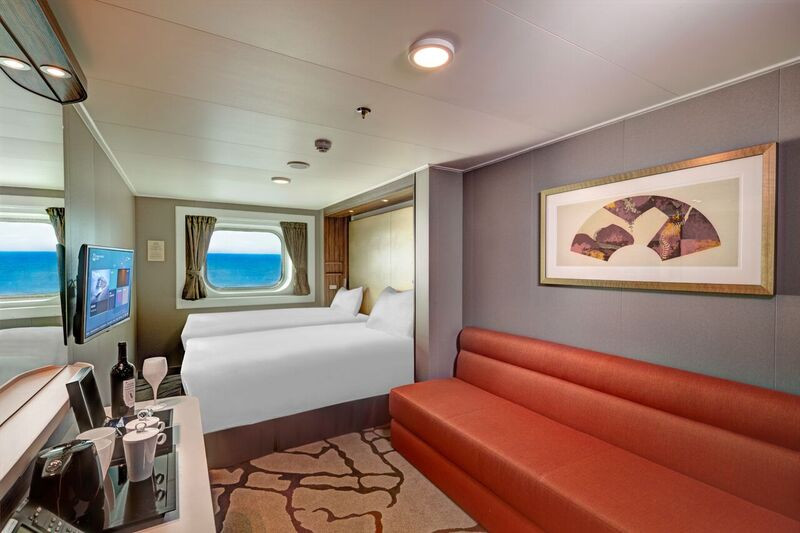 Oceanview Stateroom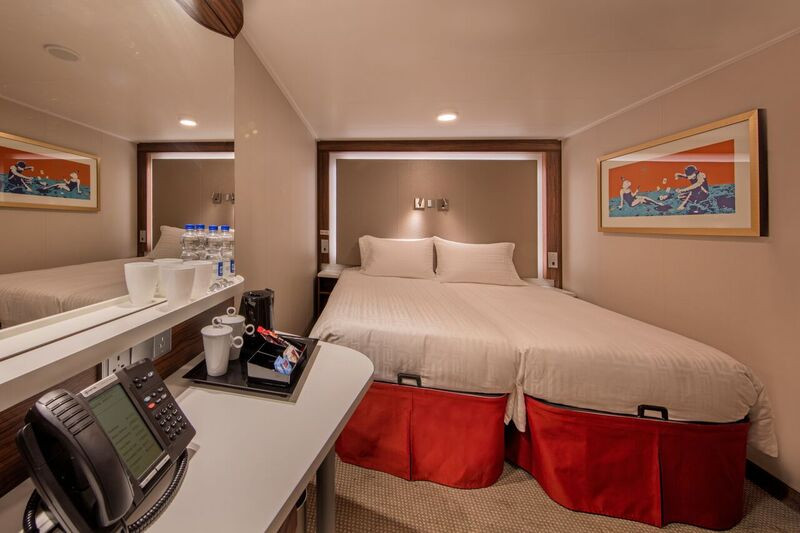 Interior stateroom
Boarding Check In Time (Subject to Change)
Thursday 3D2N Cruise (Ex-Port Klang): 2PM-5PM
Saturday 3D2N Cruise (Ex-Port Klang): 9am-10:30am
(Kindly arrival at the Port Klang Cruise Terminal before 2 hours of the check in boarding time)
Mandatory ONLINE CHECK-IN
Guest must visit www.rwcruises.com under Manage My Cruise section for mandatory Online Check In, The Online check-in for the cruise will be available 72 hours prior to sailing and closes 24 hours before sailing. Guest must ensure correct contact details are inserted during Online Check-in as per the Singapore government's requirement .
Important Information
Resort World Cruises requires all guests above the age of 12 to be fully vaccinated. Vaccinated Guests must have received the appropriate regimen of World Health Organisation Emergency Use Listing (WHO EUL) COVID-19 vaccines including their respective duration post-vaccination for the vaccine to be fully effective and boosters for eligible individuals. Overseas traveller can refer to https://safetravel.ica.gov.sg/arriving/overview for the national requirements.
Please refer here for more Pre-Sailing Information on check-in time, online check-in, checklist before arriving etc.
Age of Infant: 6 months to less than 2 years old. Infants must be at least 6 months old on date of sailing to be allowed to board.
All passports must have at least 6 months validity from the date of sailing
Passengers are responsible to ensure that all travel documents and visas are in order prior to departure from their home country
Resorts World Cruises will not accept passengers who have entered their 24th week of pregnancy by the beginning of, or at any time during their cruise vacation
Resorts World Cruises reserves the right to cancel or substitute any scheduled port of call/itinerary/price/programme at any time without prior notice
Remark : Above cruise fare quoted is dynamic and subject to further change upon actual booking base on demand. In the event if there is any fare variation , you are required to top up the fare different before
proceeding or alternatively you may opt for another dates where applicable.
Frequent Asked Questions (FAQ)
For More Questions About Genting Dream Destination Cruise Please CLICK HERE
Activities List
For More about activities list can Please CLICK HERE, activities is subject to change by cruise without any notice