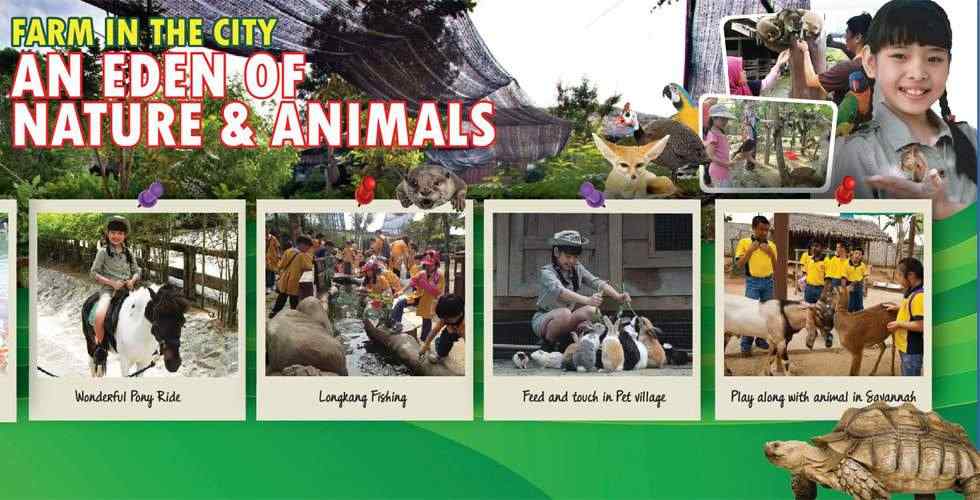 Malaysia / Selangor
Full Day Admission to Farm In The City
We Love
Price:
Malaysian:
RM28/Adult instead of RM48/Adult
RM23/Child instead of RM38/Child
None-Malaysian:
RM32/Adult instead of RM48
RM29/Child instead of RM38
Highlights:
Full day admission ticket to Malaysian village-themed petting zoo,Farm In the City
Pet and feed animals within enclosures that mimic natural habitats
More than 100 species of exotic animal sch as giant tortoise, smallest crocodile, birds, deer. Goat, alpaca, giant rabbit, pony and many more
Over 60 species of plant and vegetables available.
Editor's suggestion:
To find out more about Farm in the city, please visit its Facebook
Read guest reviews on TripAdvisor
Details
Men are no different from beasts; they're intelligent, loyal, and often cuddle up to stuffed animals. Today's Travelog returns to nature with a full day admission to the village-themed petting zoo, Farm In The City in Seri Kembangan.
Chirpy children and animated adults spend full days in local village-themed petting zoos that combine elements of wildlife and human touches. Sprightly visitors play with porcupines, stroke horses' forelocks, and have witty conversations with parrots as chummy animals roam freely without restraining cages. Mimicking natural habitats of animals, enclosures host docile beasts that gambol merrily on friendly compounds or play tricks on unicorns.
Inclusion
Full Day Admission Ticket
Good To Know
Operation Hour :
Weekdays - 10.00am to 6.00pm.​
Weekends/School and Public Holidays - 9.30am to 6.00pm.
(CLOSED ON TUESDAY , excluded Public and school holidays )
Child & Senior Rate
Child classified above 90cm in height to 11 years old.
(Child below 90cm body height get complimentary entry with paying adult )
​Senior above 60 years old and above enjoy same rate with children.
Fine Print
Book 2 days before check-in.
Prices inclusive of GST.
Free & easy basis.
The owner of Farm In The City and the Management shall be under no circumstances be held liable for any injuries, death and/or loss and damage to property however caused.
Travel Period: Until 31 May 2017
Redemption:
Just present travelog e-Voucher and your IC/passport to redeem it at ticket counter.
Main Traveller's name must be the same as your IC/passport; incorrect names may cause invalidation of redemption.
Cancellations:
No cancellation; you can easily change your travel date 3 days before check-in.
Where
Lot 40187-40188, Jalan Prima Tropika Barat, Bandar Putra Permai, Seri Kembangan (Google Maps: Click here)